Dendamix™ Marine
The lightweight coating will give the specified fire protection at a weight not exceeding 7lb/cu. feet, 111 kg/cu. MTR. without the use of pins or mesh.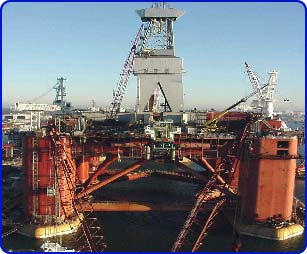 Bingo 9000 Floating Drilling Platform
Owner: Ocean Rig, Oslo Norway Marine Joiner
Contractor: Jamestown Metal Marine Sales, Inc., Boca Raton, Florida Housing: 120 drillers and support staff, 2 1/2 acres, 28 stories high.
Dendamix Marine™ has earned Approval Certification from:
Lloyd's Register of Shipping
Det Norske Veritas
The Norwegian Maritime Agency
Marine Safety Agency (D.O.T.)
Rina Italy
Bureau Veritas of France.
United States Coast Guard